From <a href="https://www.zerohedge.com/"Zero Hedge
Tech Wreck Goes Global – Taiwan Stocks Trounced In Biggest Crash In 54 Year History
Just when you thought it was safe to BTFD in tech stocks (after yesterday's "do you believe in miracles" rebound in US equity markets), the tech-heavy $2 trillion market cap Taiwan Stock Exchange Index crashed almost 9% overnight – its largest single-day drop in the exchange's 54-year history.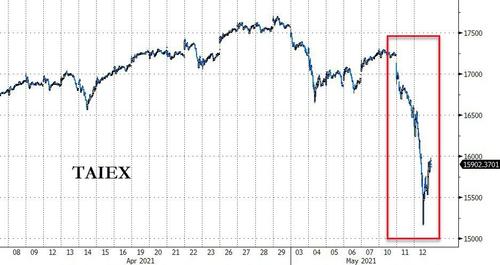 Source: Bloomberg
The deepening slump in global tech shares was clearly a focus for traders given the Taiwanese market is dominated by the industry, but, as Bloomberg notes, the swiftness of the plunge that followed suggests bigger forces were at play. For months, bull market skeptics around the world have warned that surging leverage is making equity markets riskier (e.g., US margin debt topped $822 billion by the end of March, up 72% year on year). And, as Bloomberg reports, on a smaller scale, the same happened in Taiwan.
Amid global central bank-backed complacency, investors took on increasing amounts of leverage.
The result was a 46% expansion in margin debt this year to about NT$274 billion ($9.8 billion) two weeks ago, the highest since 2011.
By comparison, the Taiwan benchmark was up just 19% in that period, an indication that people were taking out loans faster than stocks were appreciating.
"Taiwan's Taiex fell about 8% at one point, and with TSMC, which has the biggest weighting on the measure, slumping, the chips sector in Japan is being impacted," said Ryuta Otsuka, a strategist at Toyo Securities in Tokyo.

"For now, I'm not seeing a trigger that could reverse the drop."
There were also some fundamentals behind the collapse including fears over a reacceleration in COVID-19 cases.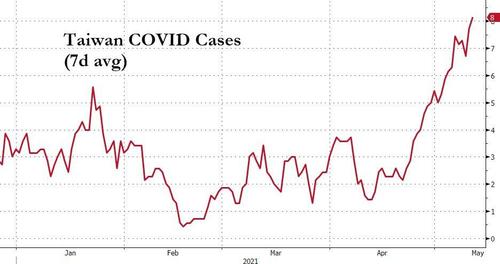 Source: Bloomberg
This has sparked a rapid escalation of restrictions potentially on the island where almost no one is vaccinated, as Liberty Times reports, Taiwan may elevate its alert level further today with the government likely to ban indoor gatherings of over five people and outdoor gatherings of more than 10 people, and it may request non-essential businesses to close their doors.
Gains on Taiex extended this year as the pandemic created a shortage of chips, with the index rising for seven straight months through April, until the reality of inflationary threats and over-leverage hit home in a big way last night.
"Margin trading boosted the Taiex over the past few months, which may add to declines if they face margin calls," said MasterLink Securities Investment Advisory President Paul Cheng.
And as the wave of deleveraging rolls back around the world, Nasdaq futures are giving back yesterday's dead-cat-bounce gains…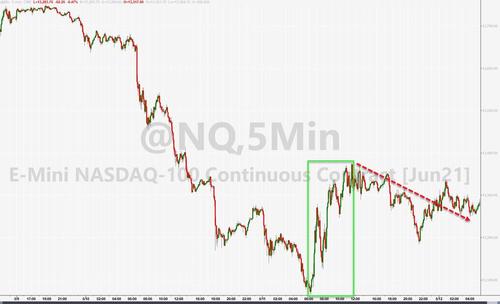 As the Taiex tumbled on Tuesday, the level of margin debt fell by NT$12.6 billion, the most since October 2018. That suggests traders faced margin calls by brokers to cover losses in their stock accounts… will we see the same in the US today?
Tyler Durden
Wed, 05/12/2021 – 08:25