From <a href="https://www.zerohedge.com/"Zero Hedge
Colonial Pipeline Partially Reopens; EPA Waives Environmental Rule To Boost Fuel Supplies
Update (1011ET): Colonial Pipeline reopened a section of its paralyzed pipeline system after a ransomware attack, reconnecting some East Coast markets with a critical supply hub, according to Bloomberg. 
Colonial's line connecting storage facilities in Greensboro, North Carolina, to Baltimore has briefly resumed for a "limited period while existing inventory is available," Colonial stated Monday. 
The section of line in the oil-refining part of South Texas that runs to North Carolina remains shuttered. Across the Southeast, fuel shortages have materialized at gas stations. 
We're not sure on the location, but this guy isn't playing around – filling up a several hundred-gallon tank as shortages worsen in the Southeast.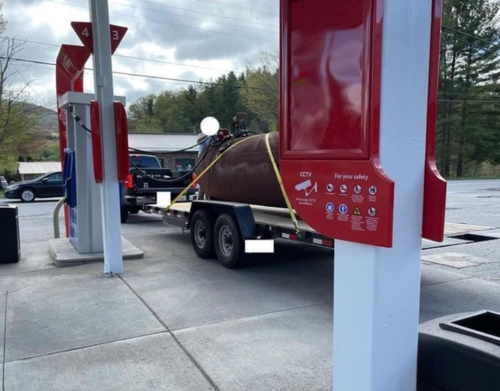 In a bid to alleviate some of the shortage, the Environmental Protection Agency issued an emergency fuel waiver on Tuesday for refiners to reformulate gasoline in the Mid-Atlantic area. The waiver extends through May 18 for fuel sold in Virginia, Washington, D.C., Maryland, and Pennsylvania. 
* * * 
Update (0647ET): And just like that, the Southeast of the US is heading down a dark path similar to one of the 1970s gas shortages from Virginia to Florida to Alabama following the Colonial Pipeline ransomware attack. Even with Colonial set to restore systems by the weekend, shortages have already materialized as people panic hoard. 
The real panic has yet to begin as millions of Americans are waking up for work, hopping into their vehicle across the Southeast, and are hearing fuel shortages on the radio or reading push notifications on their phone. Driving down the street, they see rising fuel prices, signs at pumps that either read shortage or pump restrictions, or even see some gas stations closed. 
WJTV's Anna Farish reports gas shortages this morning in Mississippi.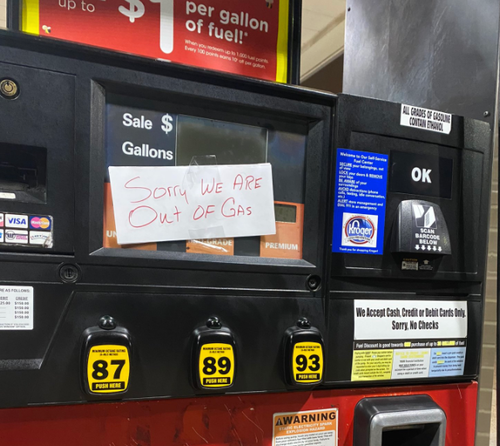 One Twitter user reports one gas station is placing "limits" on fuel in Central Alabama. 
The gas shortage is already hitting Central Alabama, so I probably won't be working this time next week. pic.twitter.com/yaxBwEcbZg

— Preston Aaron (@PrAaHe) May 11, 2021
People are panic filling up gas cans.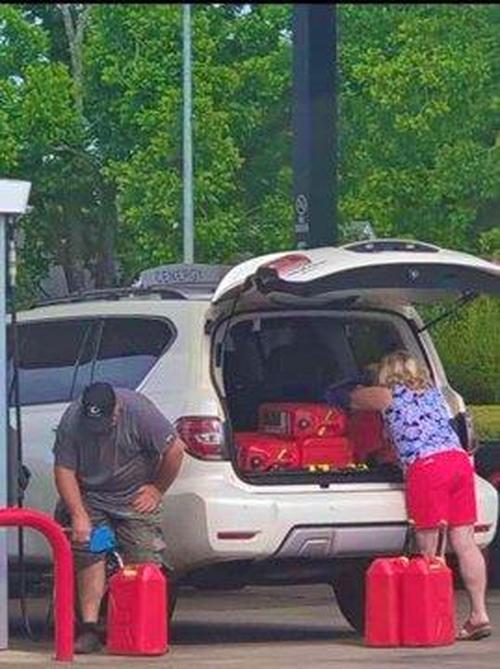 Across the Southeast, search trends for "gas cans for sale" are erupting.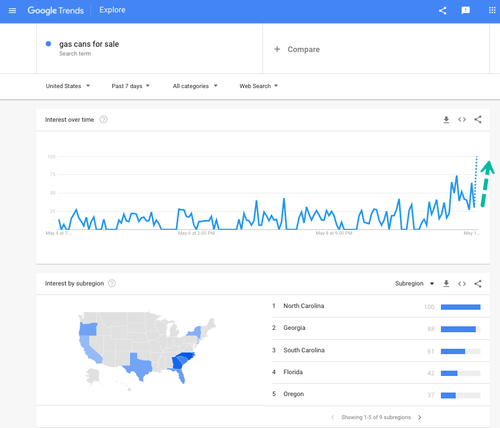 We showed on Monday that the gas shortage panic started around 1300 ET Monday.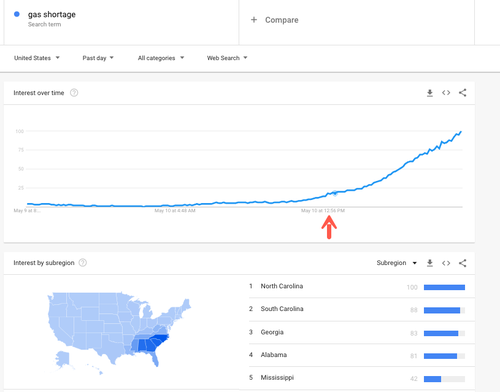 WCNC's Billie Jean Shaw reports: "Good morning y'all! There's a gas shortage throughout the Carolinas due to the shutdown of the Colonial Pipeline. These are pics from a gas station in S. CLT. Join me on #WakeUpCLT, I have the rundown on when all of this is expected to be over b/c it's annoying. 😩 @wcnc." 
Good morning y'all! There's a gas shortage throughout the Carolinas due to the shutdown of the Colonial Pipeline. These are pics from a gas station in S. CLT. Join me on #WakeUpCLT, I have the rundown on when all of this is expected to be over b/c it's annoying. 😩 @wcnc pic.twitter.com/EfD2zMJWGP

— Billie Jean Shaw (@BillieJeanTV) May 11, 2021
Fuel shortages in South Carolina. 
Anyone seeing #gasshortage in their area? This station along Highway 544 outside Conway only has a couple pumps open with regular fuel available @wpdeabc15 pic.twitter.com/LQdZr2acRq

— Liz Cooper (@LizCooperABC15) May 11, 2021
U.S. average retail gasoline prices have soared on the disruption, almost touching $3/gallon, the highest since 2014.
BREAKING: US average retail gasoline price jumps to a 6½-year high of $2.985 a gallon, per @AAAnews data. Retail gasoline prices are already >$3 per gallon in 16 states, plus DC | #OOTT Our latest story on the #ColonialPipelineHack and its impact is here: https://t.co/iIsJwEXlLS pic.twitter.com/JcqLqVECWt

— Javier Blas (@JavierBlas) May 11, 2021
The shortage continues to develop. We are assuming the craziness is just beginning.
* * * 
Gas shortages are being reported in the Southeast of the US amid the recent cybersecurity attack that temporarily shut down one of the largest pipelines in the US.
Colonial Pipeline Co. Chief Executive Officer Joseph Blount said the company was in the process of restoring its systems but wouldn't resume fuel shipments until the ransomware had been removed, according to Bloomberg.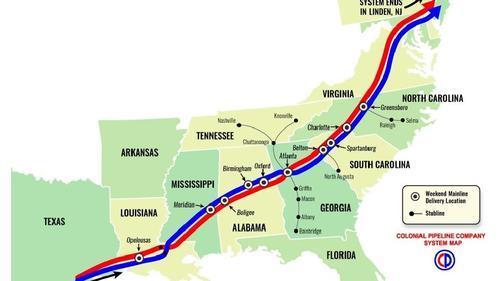 At the moment, Colonial Pipeline is manually operating a segment of pipeline between North Carolina to Maryland and expects a complete system restore by the weekend. However, gas shortages are already being reported from North Carolina to Florida to Alabama. 
On Monday, North Carolina Governor Roy Cooper signed an Executive Order declaring a state of emergency, temporarily suspending motor vehicle fuel regulations to ensure adequate fuel supply supplies throughout the state.
WLOS' Caitlyn Penter reported gas shortages in North Carolina. 
This gas station in Robbinsville is all out of gas. Clerk said manager told her it could be five days before they have gas again. Says phone has been ringing off the hook of people calling around to find gas @WLOS_13 pic.twitter.com/SCcwmb1Pc0

— Caitlyn Penter (@CaitlynWLOS) May 10, 2021
Penter said long gas lines were developing. 
This is the gas station across the street. Long line for gas. @WLOS_13 pic.twitter.com/mxaX7QU9a0

— Caitlyn Penter (@CaitlynWLOS) May 10, 2021
WEAR-TV's Renee Beninate shows that one gas station in Northwest Florida was selling regular gas for $4.29/gallon.
SKY HIGH GAS PRICES: We've received calls into the @weartv newsroom about this #gas station in #EscambiaCounty selling regular gas for $4.29/gallon. Within a minute of our news car showing up, it was dropped to $3.29. Check it out 👇🏼 Are you paying more at the pump? #GasShortage pic.twitter.com/ghyAnQO7f6

— Renee Beninate (@reneebeninate) May 10, 2021
More people in Florida panic buying fuel for $4.50/gallon. 
Next week people in Florida are going to bitch that fuel is $4.50 a gallon. You'll be able to thank the panic buyers of today for the high fuel prices next week. pic.twitter.com/XBXfi7TjAH

— 𝐆𝐫𝐞𝐠 𝐓𝐢𝐬𝐡 📻 Real Talk 93.3 WVFT (@Greg_Tish) May 10, 2021
In Fitzgerald, Georgia, one Twitter user shows long gas lines at an enmarket gas station. 
#Gasmegetton #FitzgeraldGa #FolksPanic This is exactly why it's a gas shortage pic.twitter.com/NpGdCslJDK

— IDFree (@indeefree) May 10, 2021
One South Carolina gas station was out of unleaded and plus.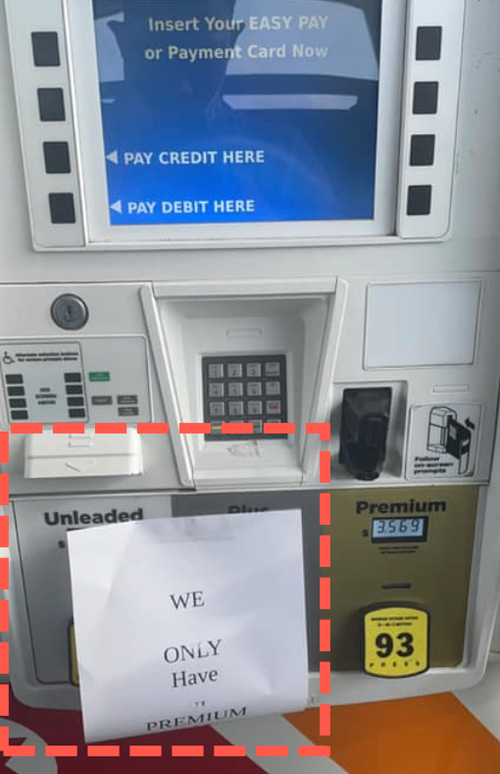 Someone in Myrtle Beach panic hoarded gas.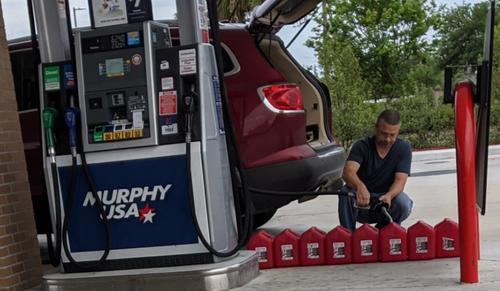 People are getting worried about the shortage. 
Need an idea for what to do if gas becomes too high to fill up lawnmowers or if there's a shortage?

Ronnie Miller from Johnson City has an idea! pic.twitter.com/yS2T70Wya1

— Anslee Daniel WJHL (@Anslee_WJHL) May 11, 2021
A massive line of people waiting for fuel in Asheville, North Carolina.
Video coming out of Asheville, North Carolina show the fuel shortage in effect.

Some gas stations are completely out of supply, while others have lineups. pic.twitter.com/7xrSoPA99G

— Marie Oakes (@TheMarieOakes) May 11, 2021
People waiting to fuel up at one gas station in Plymouth, North Carolina.
Gas stations are running out, Plymouth NC lines are around the building. 4 stations are out. #gasshortage pic.twitter.com/TcIwRpCsBG

— Fly on the wall (@Huge2na) May 11, 2021
Not sure where, but the run has begun. 
Update https://t.co/HPKrGl8l7T pic.twitter.com/MZEZhBbvYF

— SixPackSpeak (@sixpackspeak) May 11, 2021
Gas shortage in Atlanta. 
Go get gas if you need to. #gasshortage pic.twitter.com/xS17MnUplb

— Joche' (@missexclusive4) May 11, 2021
Gas lines in Clinton, North Carolina.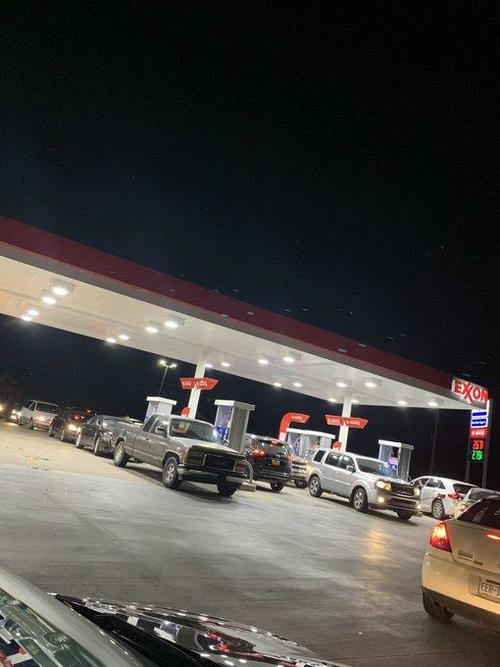 WSOC's Greg Suskin reports a gas station in South Carolina has entirely run out of gas, except for diesel. 
This is crazy. I stopped for gas just now having no idea what was happening. It's out. People here told me they'd been to other stations and found the same. pic.twitter.com/7LDVdUXPo4

— Greg Suskin (@GSuskinWSOC9) May 11, 2021
Shortages now spreading into Tennessee. 
At a Racetrack in Cleveland TN… out of gas #gasshortage pic.twitter.com/kKSYjhSpaz

— anne finch (@thatdamnanne) May 11, 2021
According to Google Search Trends, people started panic searching "gas shortage" around 1300 ET in the Southeast.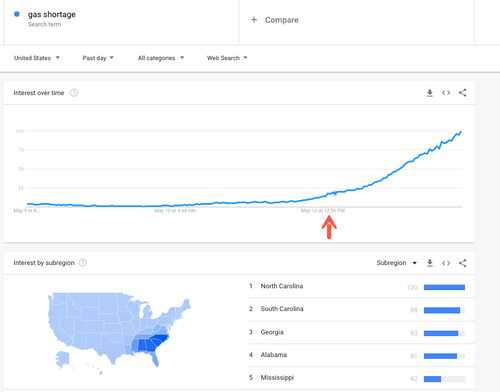 So far, nationwide gas prices have surged six cents this week to $2.96 – the highest for this time of year since 2014. If the national average soars to $2.99 or higher this week, it will be the highest since November 2014… and right before the start of summer driving season.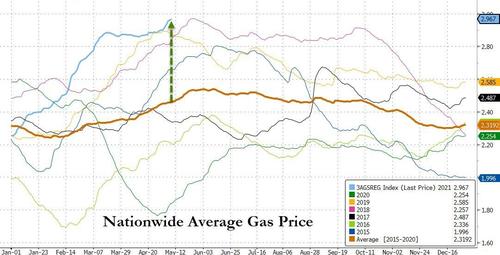 AAA forecasts gas prices are soaring because of the shutdown of the Colonial Pipeline, which delivers about 45% of all fuel to the East Coast. 
"This shutdown will have implications on both gasoline supply and prices, but the impact will vary regionally. Areas including Mississippi, Tennessee, and the east coast from Georgia into Delaware are most likely to experience limited fuel availability and price increases, as early as this week," said Jeanette McGee, AAA spokesperson. "These states may see prices increase three to seven cents this week."
This is beginning to look like the 1970s gas shortage. If the panic just started hours ago – just wait until tomorrow. People will freak. 
Tyler Durden
Tue, 05/11/2021 – 10:11