From <a href="https://www.zerohedge.com/"Zero Hedge
TSA Screens 1.64 Million People At Airports, Highest Since Pandemic Start ​​​​​​​
As more Americans get vaccinated against COVID-19 (around 109 million fully vaccinated), the busy travel season is about to lift off. The Transportation Security Administration (TSA) reported Friday it screened 1.64 million passengers Thursday at US airports, the highest number since early March of last year when the pandemic began.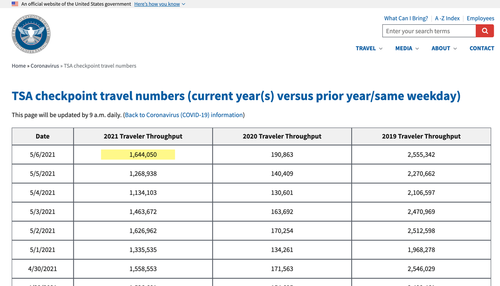 Even though the number of US air travelers is still down 35% from the same date in 2019, or about one million travelers, unconventional domestic routes see substantial pent-up demand for leisure travel. However, business travel has yet to rebound. 
Will Livsey, a data analyst with the aviation analytics company Cirium, which tracks airline flight schedules and routes, told NPR News that flight routes across the US have "been rewritten since COVID." 
"We have history on how things were done for many, many years, but now you throw in a pandemic and you're literally rewriting the book now," Livsey said. "Airlines are trying new things, new experiments, if you will, of putting planes where they think they'll make the most amount of money."
Pent-up demand for the summer travel season has allowed commercial airlines to expand their fleets. According to a report from the Energy Department, there's also been a surge in travelers in recent months, driving up demand for jet fuel.
In April, the agency said jet fuel consumption recorded 1.2 million barrels per day, nearly 200,000 barrels per day higher than in March. Jet fuel demand remains well below the pre-pandemic levels of 1.5 million barrels per day in 2019. 
"In recent weeks, the number of air travel passengers has increased in the United States, which may indicate a corresponding near-term increase in jet fuel demand," the Energy Department said.
With the summer season around the corner and vaccinated people or just anyone wanting to escape after a year of sitting on their couch and working from home, travel, and tourism seem to be picking but is far from recovery to 2019 levels. 
Tyler Durden
Fri, 05/07/2021 – 13:10