From <a href="https://www.zerohedge.com/"Zero Hedge
Iran Releases Video Threatening Strike On Israel's Dimona Nuclear Reactor
Iranian state media has again put out a hugely provocative clip depicting an imagined attack on its foreign enemies, which is clearly intended as a threat and "warning". On Wednesday we detailed that just days earlier a propaganda video set to Iranian patriotic music featured Iran's military launching a missile on Washington D.C., which resulted in an imagined direct hit on the Capitol Building. The clip briefly showed shocking footage of the Capitol bursting into flames as the lyrics praised the "avengers" who will "liberate Jerusalem" and defeat the Islamic Republic's enemies.
And now on Thursday state-controlled Islamic Republic of Iran Broadcasting (or IRIB) has issued another similar video, this time depicting an aerial missile strike on Dimona nuclear reactor in southern Israel.
New video from #Iran's IRIB threatening a strike on #Dimona nuclear reactor in #Israel ahead of #QudsDay. pic.twitter.com/QBooLSQwgx

— Jason Brodsky (@JasonMBrodsky) May 6, 2021
The brief clip simulates the vantage point of a fighter jet or a drone hovering over what clearly appears to be the large Dimona facility, after which a missile is fired down upon it, but then the footage cuts to an hour glass, suggesting time is "running out" for Israel. 
Interestingly, just weeks ago on April 22 (in the overnight hours) what was widely described as an "errant" Syrian missile (as Damascus defenses had been responding to an Israeli raid) had fallen close to the Dimona nuclear reactor facility. 
"A Syrian missile exploded in southern Israel on Thursday, the Israeli military said, in an incident that triggered warning sirens near the secretive Dimona nuclear reactor and an Israeli strike in Syria," Reuters had reported at the time. 
The Shimon Peres Negev Nuclear Research Center, commonly referred to as the Dimona complex: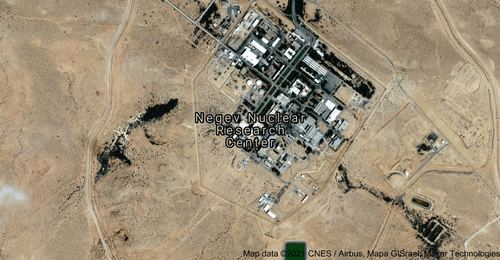 The whole incident had been somewhat mysterious, given the length the missile traveled to within the general vicinity of one of Israel's most secure and sensitive sites, leaving many to speculate that the "errant" surface missile fired from Syria was actually an intentional "message" to the Israelis. 
Below is the IRGC propaganda clip which had been released this past weekend…
In Broadcast Leading to Khamenei's Speech, Iran TV Airs Nationalist Song Depicting Capitol Hill Being Destroyed by a Missile #Iran #JCPOA pic.twitter.com/1Z9onUPMPM

— MEMRI (@MEMRIReports) May 5, 2021
Perhaps seizing on this capability of Iran or its regional allies to potentially hit an Israeli nuclear rector, which would cause untold severe damage to the whole surrounding area in southern Israel, Tehran appears to be putting Israel "on notice" over the latest string of Israeli covert sabotage incidents, most notably the April 11 Natanz attack which damaged Iranian centrifuges. 
This latest clip was issued on the occasion of Quds Day, which is an Iranian Islamic holiday that specifically commemorates the expected "liberation of Jerusalem" and which falls every year on the last Friday of Ramadan.
Tyler Durden
Thu, 05/06/2021 – 22:30