From <a href="https://www.zerohedge.com/"Zero Hedge
Amazon Exerts Broad Policy Control Over "Independent" Contract Drivers
Sure, Amazon delivery contractors will let you work as many hours a week as you can handle as a driver, but you better keep a close eye (or nose) on your fingernails and body odor.
That's because the e-commerce giant is apparently still "dictating the state" of personal hygiene their drivers must maintain, according to a new Bloomberg report. This is despite the fact that many drivers work for small, independent businesses with contracts to transport packages for Amazon.
Amazon writes in a recent version of their policies for these independent businesses: "Personal grooming must be maintained at an acceptable level, including but not limited to prevention of unpleasant breath or body odor, modest perfume/cologne, and clean teeth, face/ears, fingernails and hair."
The document also asks drivers to not post "obscene" things on social media and to undergo training approved by Amazon. 
Independent contractors are mandated to adhere to Amazon's policies, which the tech giant can amend anytime it wants. Amazon also demands access to geo-locations, speed and movement of drivers, the report says.
Additionally, delivery contractors have to "defend and indemnify" Amazon in the event of wrongdoing by their drivers, including wrongdoing involving death or injury.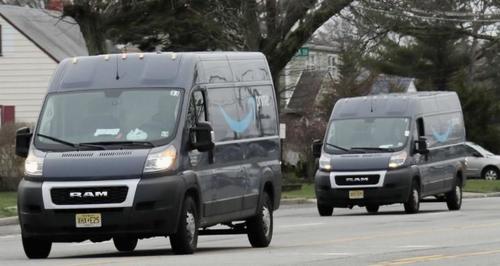 But the more control Amazon wants to exert over these independent businesses, the more legal risks it brings on itself. University of Miami law professor Andrew Elmore told Bloomberg: "Amazon seems to want to have its cake and eat it too—to have all the control of an employment relationship, without bearing the costs. These documents provide an important signal to courts and to government agencies that this is a relationship to look at."
These methods have already been challenged in court by drivers, forcing Amazon to pony up $8.2 million in a class action suit that resolved Seattle-area claims of missed breaks and lack of overtime pay. Amidst claims that Amazon drivers didn't even have time for bathroom breaks in March, Amazon's Twitter account @AmazonNews responded to Rep. Mark Pocan of Wisconsin: "You don't really believe the peeing in bottles thing, do you?"
Amazon spokesperson Rena Lunak said that "the suggestion Amazon is seeking to avoid responsibility for delivery drivers is wrong."
"We're proud that our program has empowered thousands of small businesses to create tens of thousands of jobs with competitive wages of at least $15 an hour and comprehensive benefits," she continued. 
Temple University law professor Brishen Rogers commented: "This kind of arrangement basically locks in place a low-wage economy, even as Amazon is incredibly profitable."
Last year, the company said there were more than 1,300 delivery service partners across North America and Europe, who collectively employed 85,000 people. 
The contract labor model – also used by McDonald's, Alphabet, FedEx and, famously, Uber and Lyft – is expected to continue to draw more scrutiny from the Biden administration. 
Tyler Durden
Fri, 05/07/2021 – 17:20