From <a href="https://www.zerohedge.com/"Zero Hedge
Hamas Says Israel "Deserved" Meron Stampede Tragedy Which Killed 45
Hamas is stoking outrage inside Israel with statements which appear to positively celebrate last Friday's Meron stampede tragedy. When an estimated 100,000 Israelis gathered for the Jewish celebration of 'Lag B'Omer' at the Mount Meron shrine and tomb, a stampede ensued and crushed 45 people to death, and injured over 150 more. 
In a Turkish television interview, a Hamas spokesman said that Israel "deserved" the deadly tragedy, and further said no one should be offering condolences while describing it as 'divide retribution'.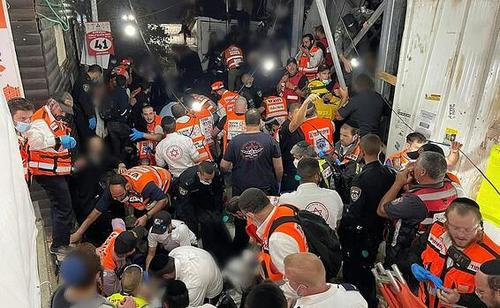 The Hamas official, Talal Nassar, told Turkey's Channel 9 that "Only despicable people and gamblers would offer them their condolences." He explained that occupiers of Palestinian land deserved "all the possible curses," according to a translation featured in Foreign Policy.
"These people who came here and settled on this land are thieves, murderers, and criminals. Those who offer them their condolences are their accomplices in the occupation of our land," the Hamas official said. "I believe all those who drove out our fathers and grandfathers from these lands (deserve) all the possible curses."
Nassar then quoted the Quran in an apparent attempt to provide theological justification for the incendiary statements: "And you did not kill them, but it was Allah who killed them," he told the broadcaster. Those offering condolences in the wake of the deadly Meron incident have "abandoned their religion, their conscience, and their humanity," he added.
During the comments in which he can be heard shouting, the Hamas spokesman called the Isrealis "murderers" which he vowed to "fight"…
Hamas Official Talal Nassar Blasts Muslims Who Offered Condolence to Israel Following Meron Stampede: They Are Despicable Accomplices in the Occupation of Our Lands; The Zionists Must Pay for Their Presence on Our Land #Meron pic.twitter.com/fOfCa86gSV

— MEMRI (@MEMRIReports) May 5, 2021
The shocking accident had killed at least five children according to Israeli media reports, as well as a number of teenagers and other young people. Prime Minister Benjamin Netanyahu called it a "night of terror" in a memorial ceremony held Monday, while lawmakers have vowed a thorough investigation amid reports of years of neglect of proper safety and law enforcement protocols at the site. 
This latest outrageous statement out of Hamas comes at a moment tensions are soaring in Gaza, after within the past week there were exchanges of rocket fire between the two sides. 
Tyler Durden
Thu, 05/06/2021 – 15:50